SAM Combo Spreader
Computer control system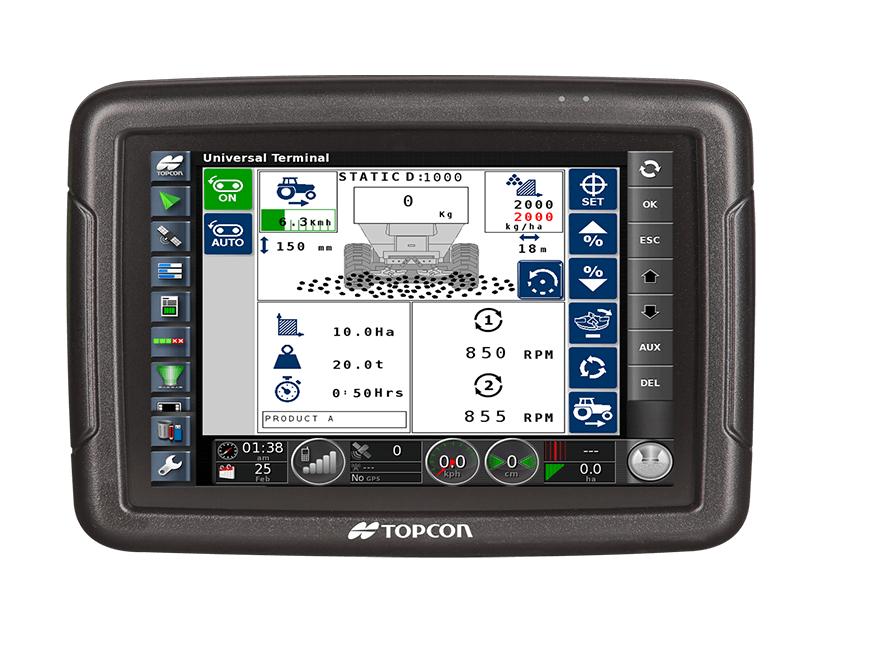 Smart. Exact. Technology.
This brand new Topcon Athene system is established from decades of worldwide experience.
It gives quick, exact control and monitoring through an easy to use interface. It provides accurate technology for the application of most types of fert and manure. This computer control system gives the precise rate of application, regardless of differences in acceleration or fertiliser density.
This system is straight-forward and very practical to use. The technology is ISOBUS. Which means it plugs in directly to any ISOBUS tractor console. Alternatively we include a large, 8 1/2" colour touch-screen.
By also including fully integrated load weigh scales, the Athene system will give you dynamic rate control. Meaning the weight of product in the bin is constantly measured, checking your spread rate accuracy and adjusting on the go to achieve desired rates.
Alternatives for setting up your computer controlled SAM Spreader:
1) Volumetric rate control only
The Athene system could be used as a simple rate controller. You just type in the density of your fert, or select the density from a pre-saved list. Other functions are also included and controlled through the touch screen. For example, monitoring your spinner speed and operating border control.
B) Dynamic / static rate control, plus load cell integration
The addition of integrated load cells means the actual weight of product in the hopper is recorded at all times, the speed of the floor is changed on the go achieving the accurate application rates. This extra monitoring creates even more accuracy with less wastage.
C) Dynamic / static rate control, plus load cell and GPS aerial integration
The addition of a GPS aerial allows improved data collection and record keeping. This set up allows options for proof of placement, field mapping and light bar.
You may be able to use your tractor aerial if you have one already, as many are compatible.
Smart Features
Generous touch-screen

Weigh scales can be integrated

ISOBUS compatible

Control for speed control

Extra control for borders
Optional extras
GPS aerial for proof of placement
Large 8 1/2" screen
Scales for weighing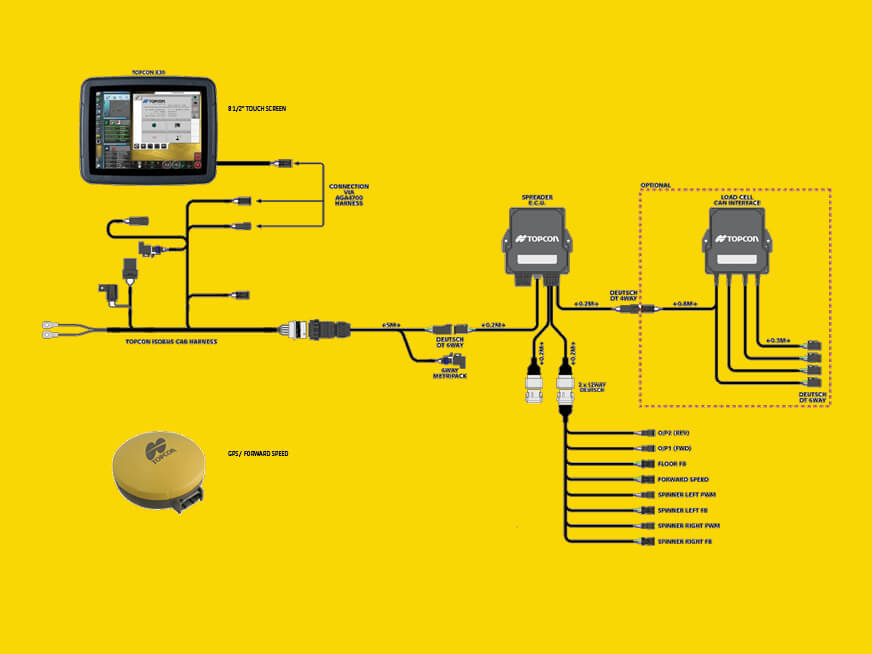 GPS aerial for proof of placement
You can include a GPS arial for proof of placement. Light bar and field mapping of each job is also included with this addition. Traceability is easy. The addition of an aerial means you can keep all the records you need for documenting your inputs.
If you have an existing aerial this may also be compatible.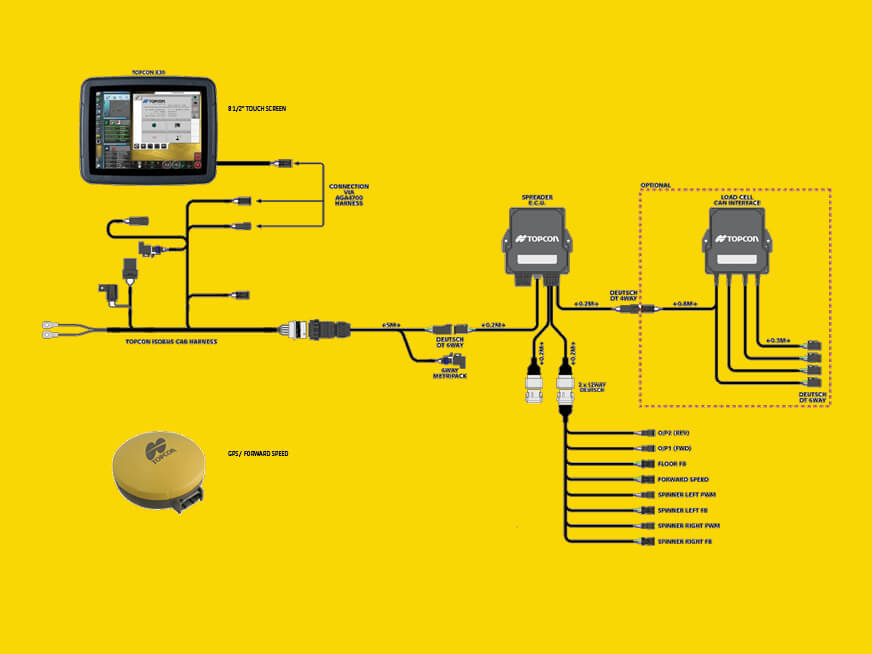 Large 8 1/2" screen
You may like to run the system directly through your tractor's screen in the cab (if it is ISOBUS).
Or you can choose to go for the X-25 Athene touch screen. It is very easy to operate on-the-go. This is generous in size and anti-glare.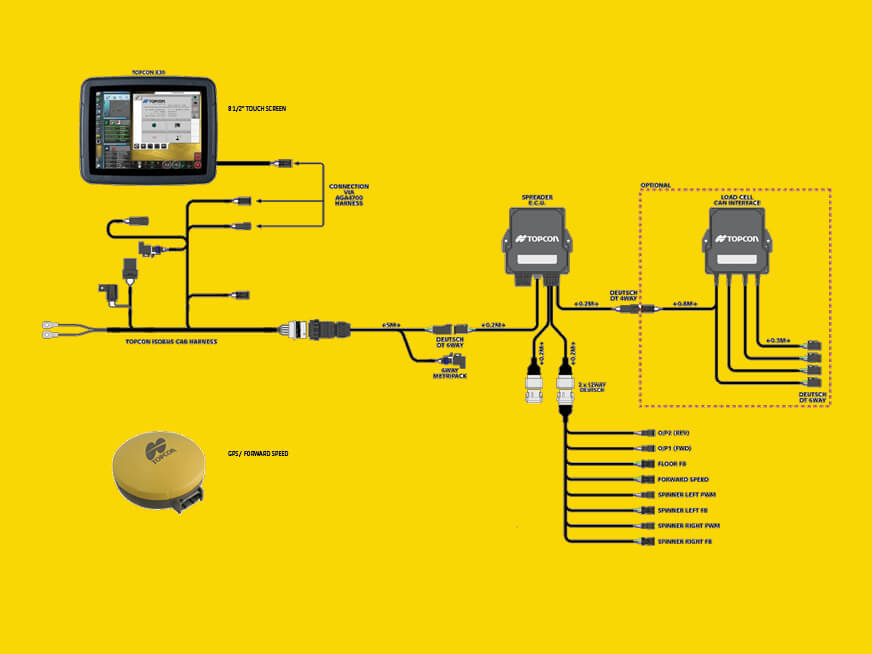 Scales for weighing
The majority of computer controlled spreaders have weigh scales added. They are fully integrated. This addition means the actual weight of fertiliser in the bin is consistently weighed on-the-go. Then fed back into the system to automatically calibrate rates regardless of forward speed.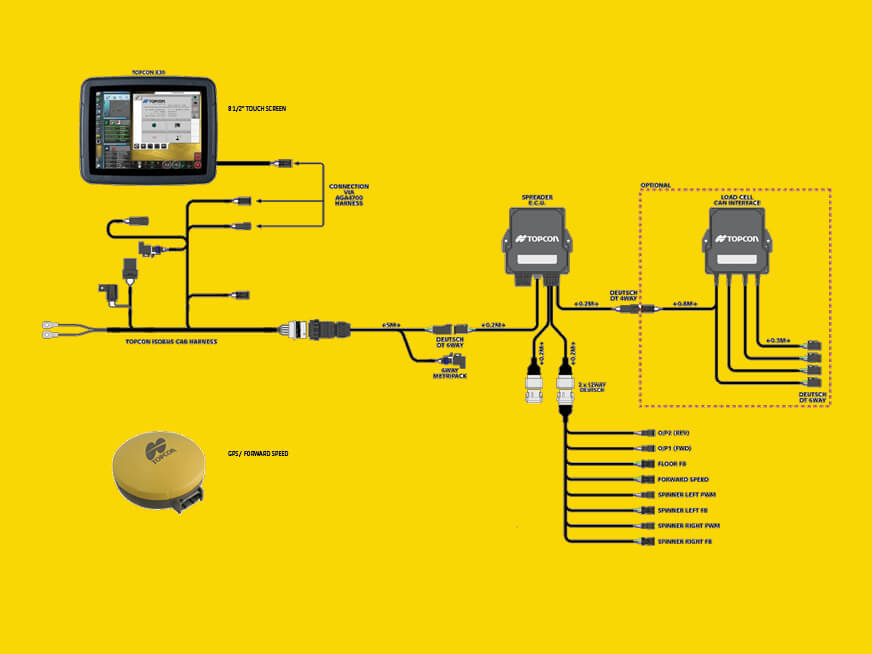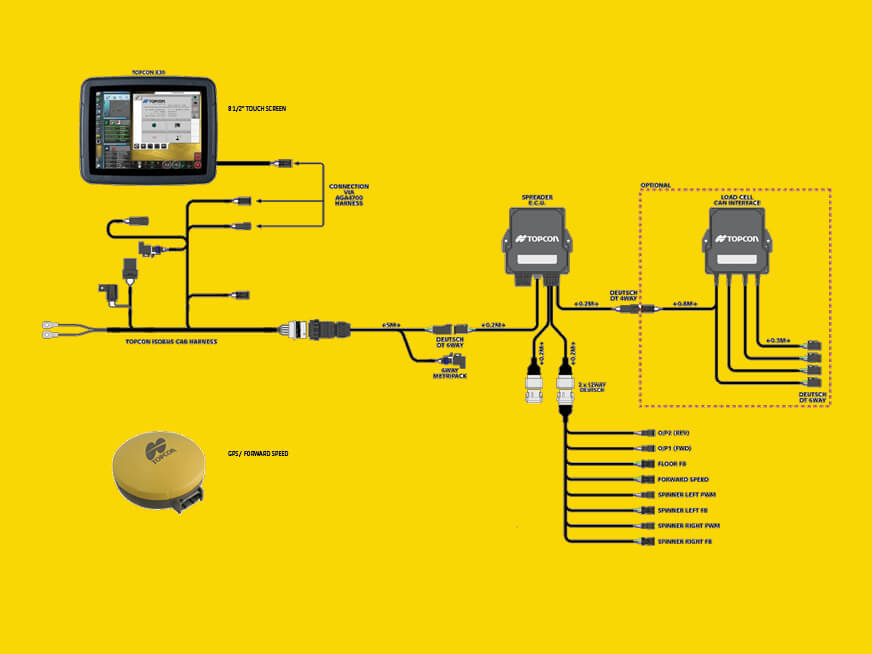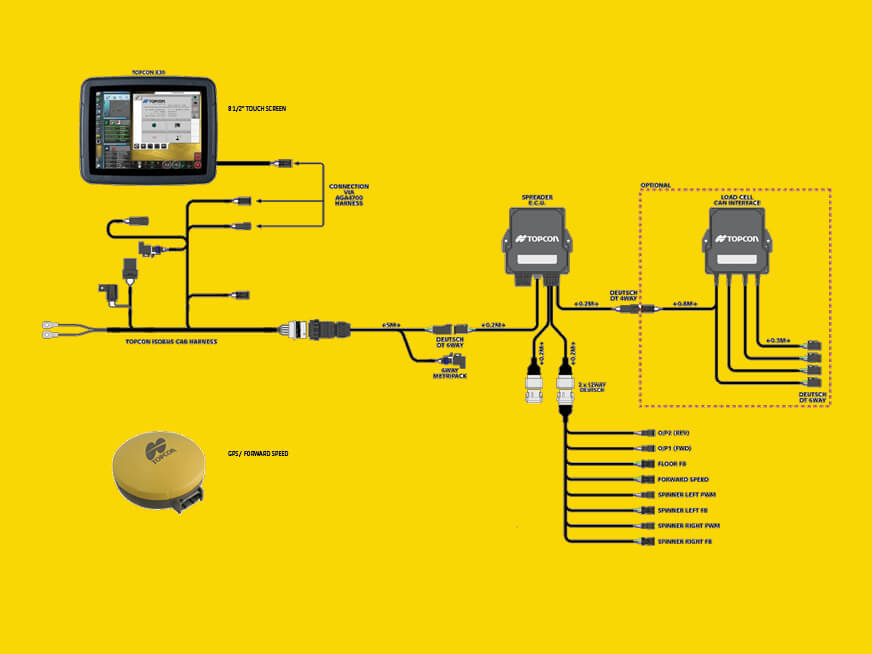 Specifications
Interface

ISOBUS

Brandname

Topcon

Control system

Athene

Touch-screen

8 1/2"
Download the brochure
Clear, smart and accurate
Excellent for getting the most out of my inputs and helping me nail my record keeping