SAM Combo Spreader
Topcon control (ISOBUS)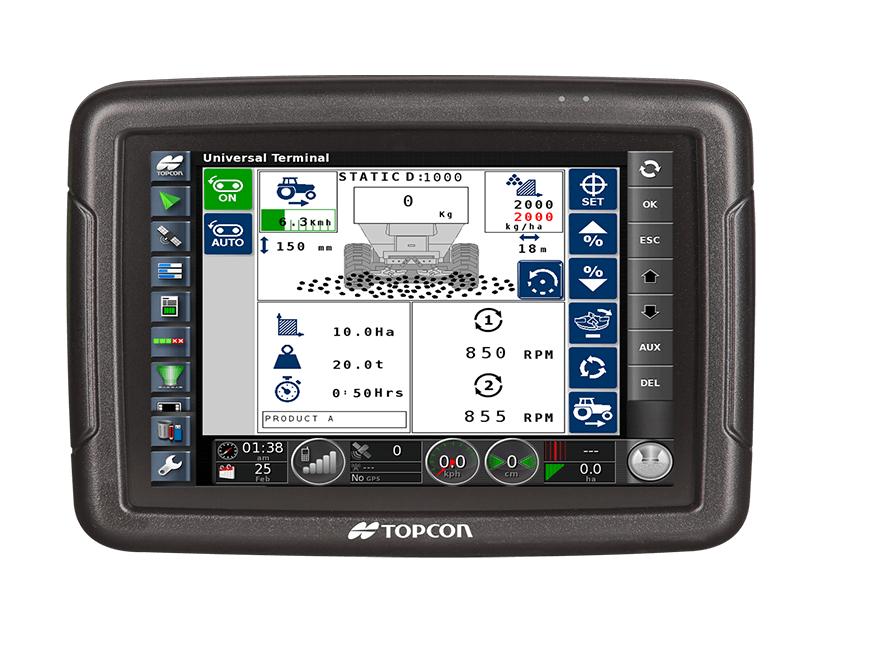 It's ISOBUS!
Smart. Accurate. Control.
This SAM is based on industry proven technology and decades of international experience.
The Topcon offers fast, accurate response in a user-friendly system. It gives precision for spreading all types of fertiliser, manure and animal waste. This technology means the correct application rate is applied, regardless of changes in forward speed or changes in your product density. You simply key in a couple of inputs and you are away!
This technology is simple, intuitive and very very smart. The system is ISOBUS so it can function with any compliant tractor console. Using your tractors existing screen and smarts.
Or go for a separate, generous, 8 1/2" colour touch screen display.
By adding the load cell module, the fully integrated system will also allow dynamic rate control. This uses the weight of product to constantly check your spread rate accuracy.
Your options for set-up:
A) Topcon control including a display screen and GPS aerial but no load cells
This system can be used as a rate controller. Either by entering a known product density or selecting the product from a pre-defined list. Spreader functions like spinner speed and border control are all monitored and operated through the touch screen. This is volumetric rate control only.
All machines are made load cell ready should you wish to upgrade.
B) Topcon control using tractors own display screen (ISOBUS) with load cells
This measures the weight of product in the spreader, the floor speed is then automatically adjusted to achieve correct application rates. This advanced control means extra precision. You are getting automatic rate calibration. Advanced mapping proof of placement is dependant on the brand of display in your tractor. This set-up operates with both dynamic and static rate control.
C) Topcon control including a display screen, GPS aerial and load cells
We include a separate generous, 8.5" colour touch screen display and a GPS aerial for proof of placement, light bar and field mapping of your jobs. Record all details for improved traceability and record keeping. This set-up operates with both dynamic and static rate control. This is ISOBUS ready.
80 - 90 l/min of oil flow from your tractor is preferred. An inline oil filter is also recommended on all SAM Spreaders with Topcon.
This brochure has a simple tick chart explaining what is included with each set-up.
Smart Features
Watch the Topcon control in action

Generous touch-screen

The 8 1/2" touch-screen can be included for the cab of your tractor. It is large, full-colour and anti-glare. An optional extra.

Weigh scales can be integrated

By integrating load cells, the system automatically calibrates the weight of fert in the bin. The floor then speeds up or slows down to meet the application rates requested. An optional extra.

ISOBUS compatible

The simple interface has a very straight-forward operation. Being an ISOBUS ICU, it connects directly with many tractors. Utilising your tractors existing tech.

Monitor your spinners

Gives you great visibility over what is happening with your spinners. Your screen shows whether spinners are stationary or operating, and at what speeds.

Mapping

This functionality shows where you have driven on your farm. The Light bar allows you to stay on track using your AB lines. Both means you are able to get the most out of your coverage.

Proof of placement

For better reporting and compliance, your proof of placement data is available to download. This gives accurate coverage and peace of mind.

Border control

The spinner speed on the left hand disc can be slowed shortening spread width. Important for spreading at borders and beside waterways.
Optional extras
Electric back door
GPS aerial for proof of placement
Large 8 1/2" touchscreen
Load cells
Inline oil filter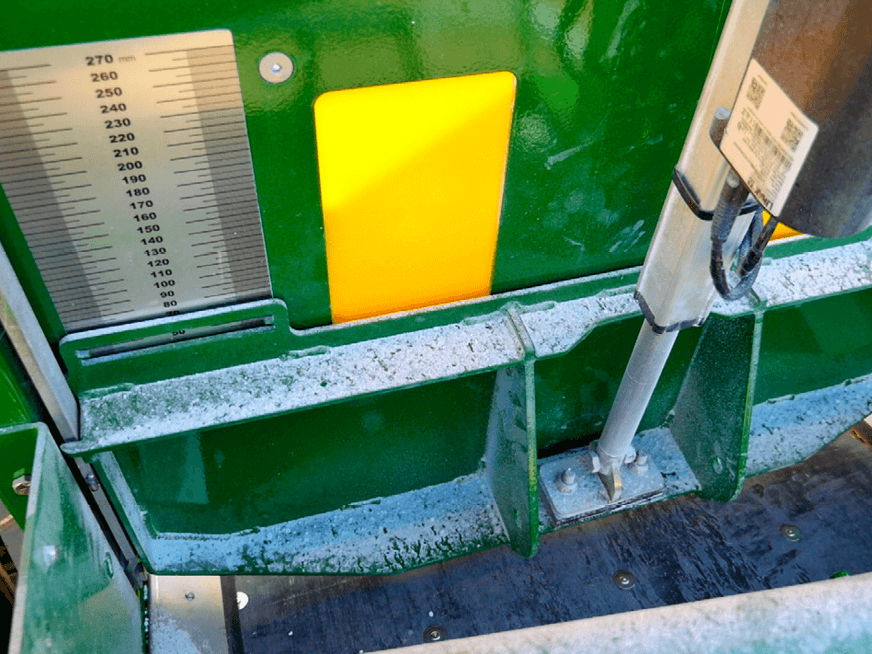 Electric back door
An electric back door is a new optional extra and replaces the manual winding of the back door jack. Simply key in your rate, density and width then the back door moves to the appropriate height for you.
Also handy for closing your back door when you are driving down the race so you are not losing any product out the back. There is a simple manual override function built in.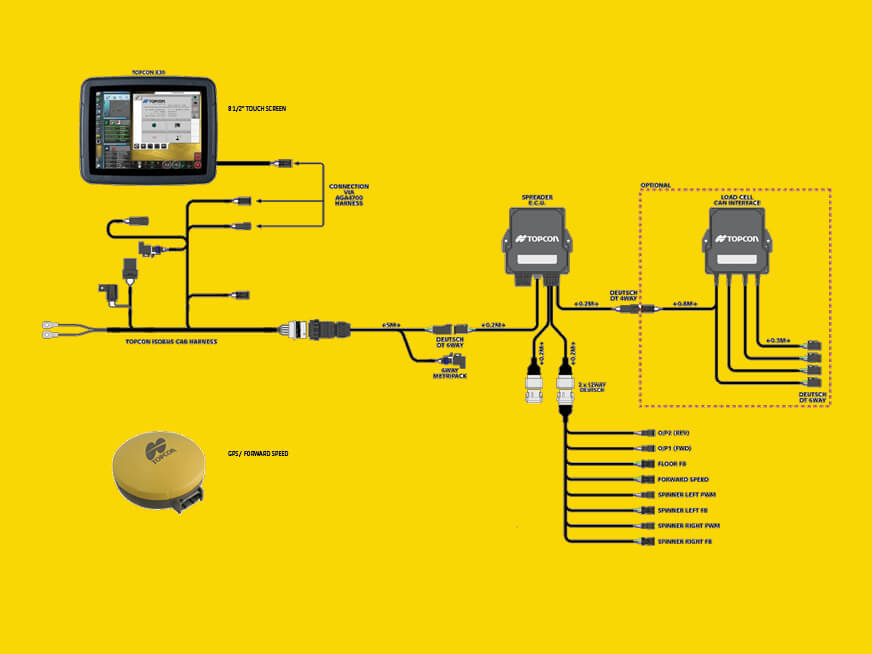 GPS aerial for proof of placement
You can include a GPS arial for proof of placement. Light bar and field mapping of each job is also included with this addition. Traceability is easy. The addition of an aerial means you can keep all the records you need for documenting your inputs.
If you have an existing aerial this may also be compatible.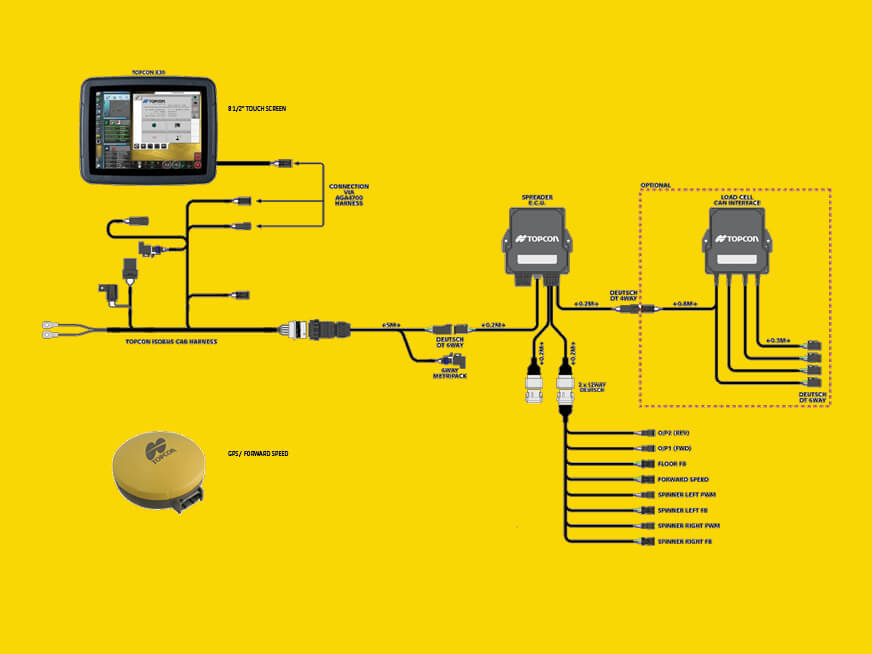 Large 8 1/2" touchscreen
If your tractor is ISOBUS you may choose to run the computer control system through your existing cab screen. Alternatively you can purchase the 8 1/2" anti-glare colour touch screen. This generous size makes controls easy to see and operate on-the-go.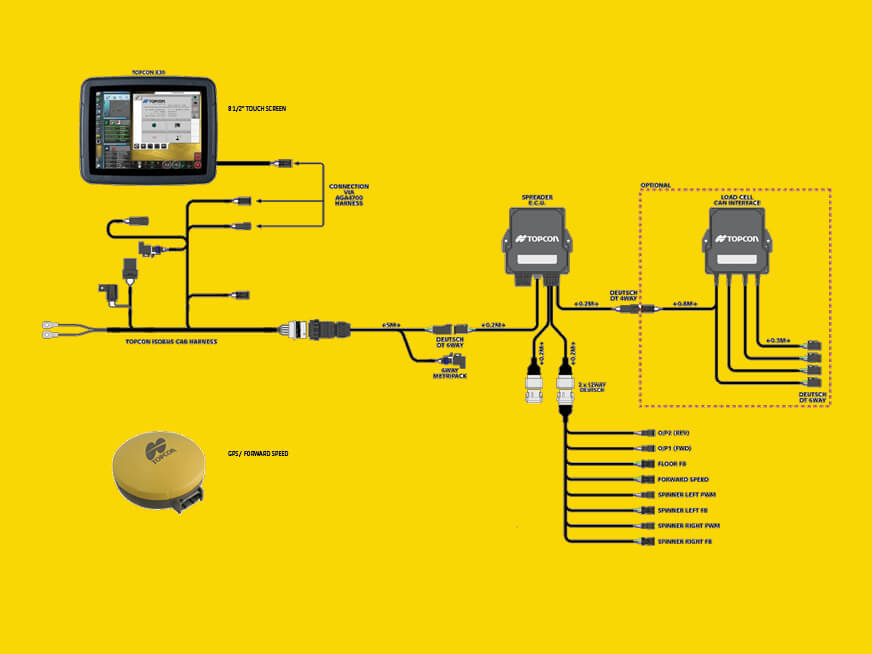 Load cells
Most farmers purchasing the computer control system add the weigh scale module. This means the actual weight of product in the bin is being weighed at all times. Then these figures are being used by the system to check spread rate accuracy as you go from the cab.
Inline oil filter
This filters the oil prior to getting into the system. Recommended.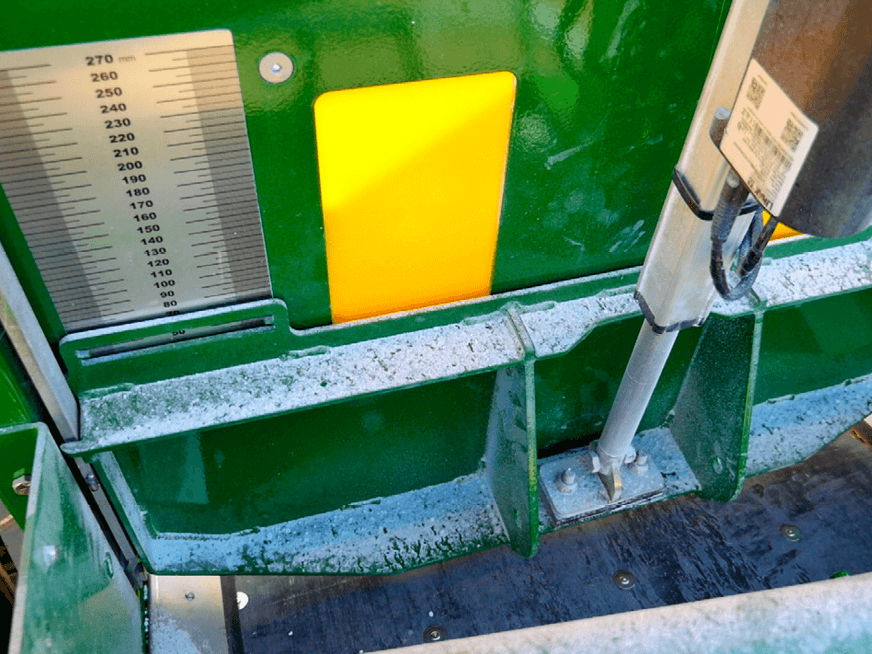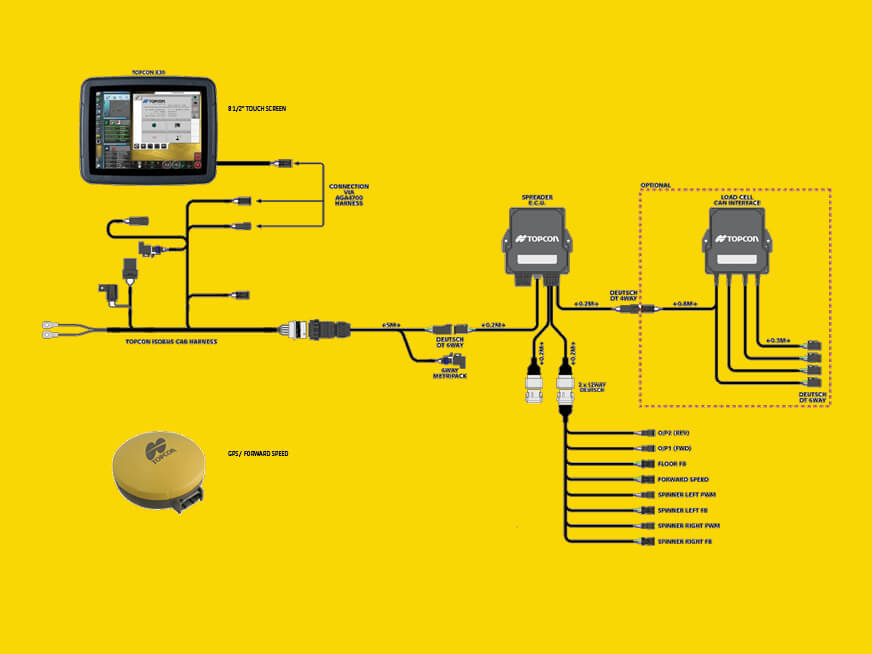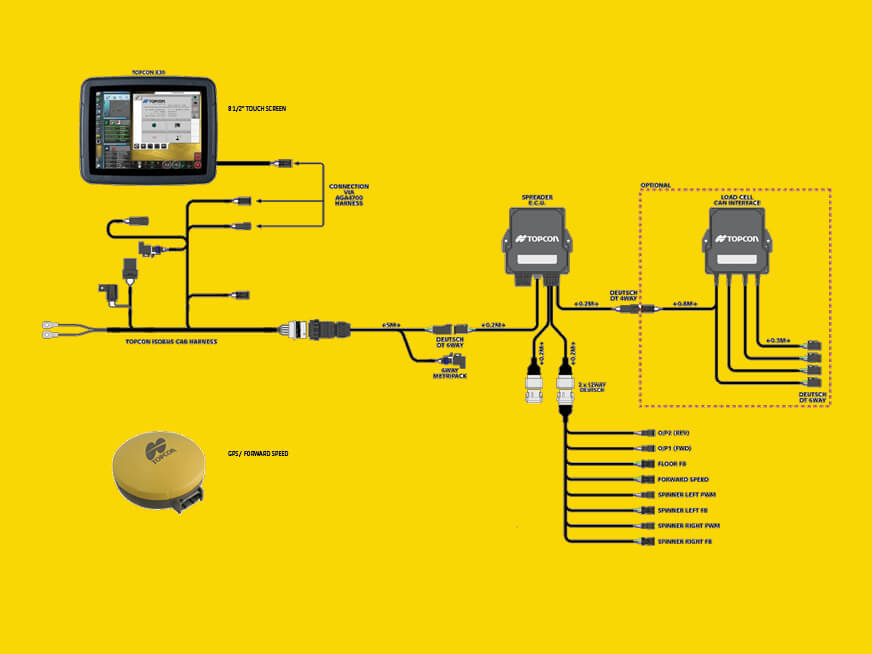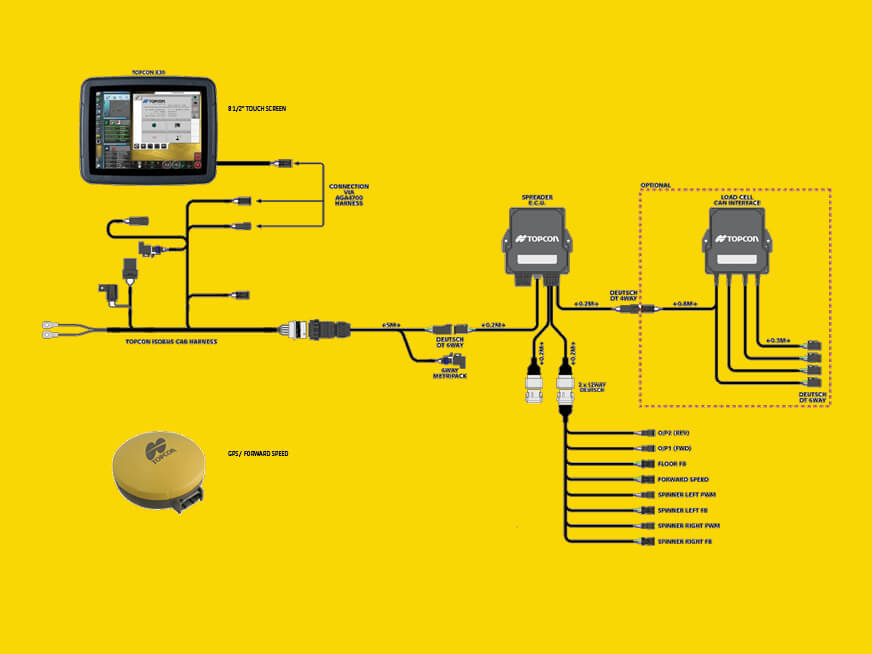 Specifications
Interface

ISOBUS

Brandname

Topcon

Control system

Athene

Touch-screen

8 1/2"
Download the brochure
Clear, smart and accurate
Excellent for getting the most out of my inputs and helping me nail my record keeping